Party City - Retail Refresh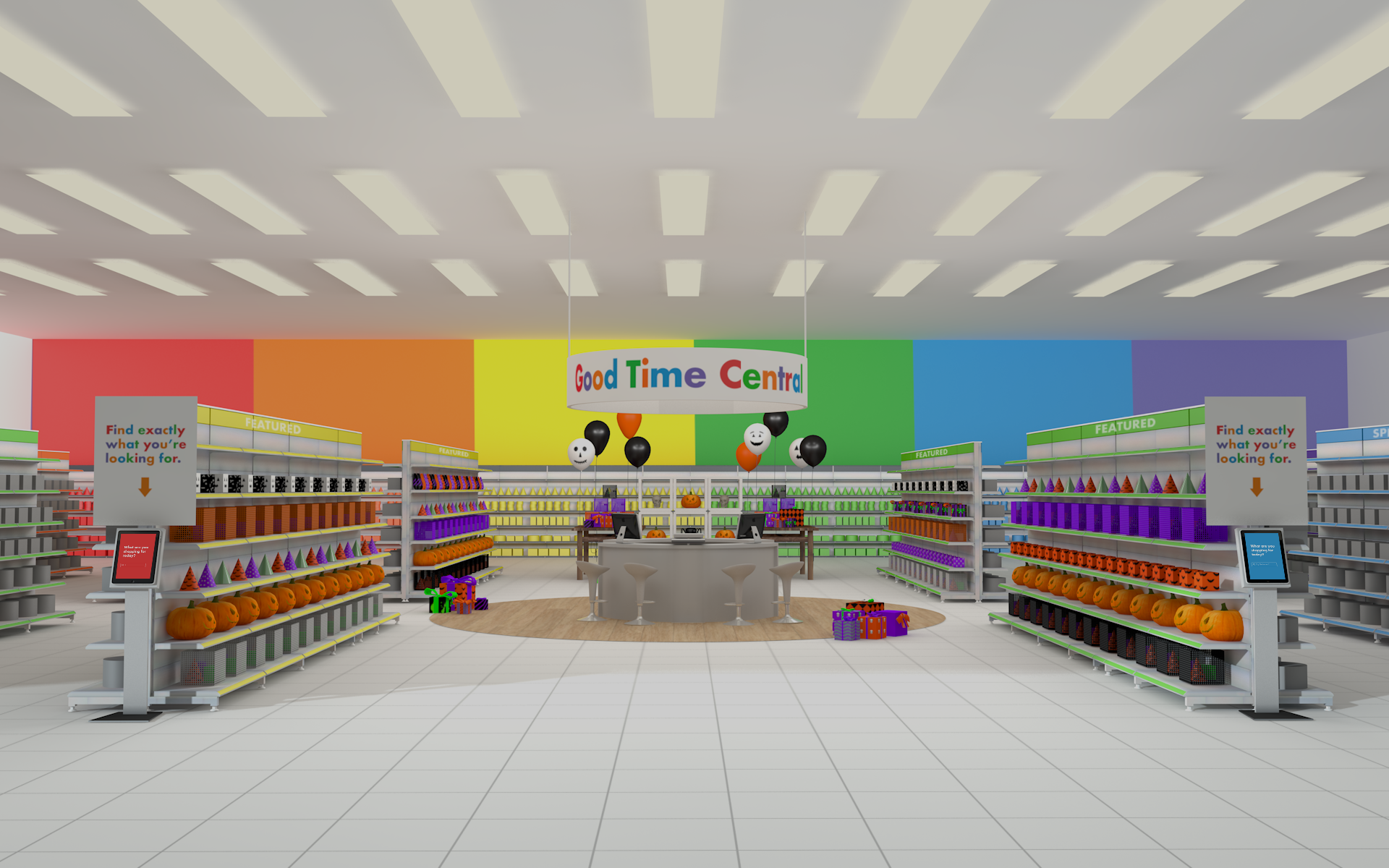 or: How we refocused an antiquated party supply warehouse to be an oasis from the stresses of party planning.
Business situation -
"Party City should feel like the party, not the day after the party."
Despite their business success and lack of brick and mortar competition, Party City's public perception left plenty to be desired. The brand, particularly the in-store experience, doesn't inspire loyalty or the excitement of a party. If parties are meant to be an escape from everyday life, Party City brings back the mundanity. In order to stay atop the party goods category and fend off competition from Amazon and other online retailers, Party City needed to correct the public's opinion.
The Consumer - "it made me happy that so many people i loved were in one room."
To see what party planners wanted from a party goods store, we asked around to see, first and foremost, what made for a great party. We were surprised to find that the answer wasn't food & drink, decorations or a killer theme. SURPRISE… it was the people at the party! The effort put in by a host to make her Harry Potter party the most authentic experience possible; the hilariously random toasts at a NYE party; the fifty strangers at a new friend's birthday in Oslo.
And this makes sense. Parties are meaningful in our lives because of the people there. They signify our networks of friends and family and how they have grown and changed throughout our lives. The people are what makes the party, and to an extent, the rest is details.
So what does Party City do for these party people?
Strategy: Party City sets the stage and puts party people in the spotlight.
Approach
A party is like a theatre performance. There are varying levels of artificiality (and varying levels of planning) that go into each party, but we suspend our levels of disbelief in service of the party. The party planner is the director, focused on the big picture. The attendees are players, moving through the stage and interacting with it, some in more meaningful ways than others. Party City plays the crew, giving the director the tools to execute their vision and the players the space to perform in and make it their own.
We wanted to learn how people felt about hosting parties to see how this could influence our redesign. While there was excitement around hosting a party, the resounding feelings were stress and anxiety. Our hosts were feeling the pressure to put on the best party possible.
Was Party City alleviating these concerns?
"It's a tad overwhelming and sterile"
"…a nightmare to find the specific thing I wanted."
Not only were we not helping our customers' concerns, but with an overwhelming experience and an underwhelming reputation, Party City was making the process even more stressful. With this in mind, our design goals moving forward focused on making it easier for party people to have a less stressful, more memorable party.
Planning a party can be stressful. It shouldn't be. Party City helps you prepare so that things go off without a hitch.
What about the in-store experience?
All design decisions were made to eliminate stress from the shopping experience. To begin, our favorite parties all seemed to have something in common: a central gathering place that serves as the hub of the party. That's what we created with Good Time Central, where customers can approach staff experts with party-planning needs. Here, our Party Hosts can assist customers in finding whatever they need around the store and inspire them to plan the best possible parties.
Improved product offerings
Along with improving the wayfinding experience, Party City will also begin offering rental services to help guests improve their parties without having to own the karaoke equipment, giant disco ball, or projector and screen. Party City guests will receive party favor gift bags on the way out of the store including items to help them manage party-related anxiety (once they sign up for the Party City loyalty program). These goody bags will include things like candles, our Stress-Free Party Bible, and no-noise noisemakers for children.
planning inspiration and expertise
We want our customers to feel like guests at a party of their own… which is why our employees need to take on the role of host. In an effort to reduce party planning anxiety, our employees must shift into the role of specialists, incentivized to introduce party themes and ideas of their own to be featured in-store. These themed designs would be changed every month and could go along with seasonal holidays or could be something totally off the wall!